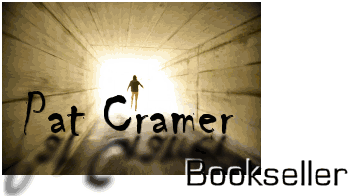 Welcome to the home of Pat Cramer, Bookseller. Please search or browse our inventory of books. If you don't find what you like please fill out our off-line search form and we will search our off-line inventory, other bookstores and book search services for you.
We are an Internet based business that has been buying and selling books Internationally for 38years. Our inventory consists of 14000 prox titles with new items being added almost daily. While from time to time we will list new items we deal in Used, Rare and Semi-Rare books. THIS IS A SECURE SITE AND WE ACCEPT BANK CARDS.
We tend to specialize in Horror, Suspense Thrillers and Modern Firsts. We don't claim to be the last word on knowledge on anything but know the most about these genres.
Have fun on my web site and by all means BUY A BOOK.
DISCOUNT APPLICATION
The first book order for new customers will receive a 10% discount. All orders that are shipped to an United States address using MEDIA MAIL unless otherwise requested by you. Any order that totals $500 or more will receive an automatic  20% DISCOUNT. Repeat customers automatically get a 20% discount on an order of any size. My website is not smart enough to figure discounts. I apply any applicable discount when I review the orders. Any questions hit the Contact Us button, send me an Email or call. Many thanks for stopping by.